Branson has been attracting millions of tourists for decades, and it's not hard to see why. From energetic live shows, to exciting theme parks, you'll have no time to be bored in Branson. You'll definitely work up an appetite though; To help with that, we have five amazing restaurants for you that are all conveniently based right along historic Highway 76.
1. Gettin' Basted
This place is almost mandatory if you're a barbecue fan. They'll set you up with the best barbecue food you can find- Try the burnt ends! Dazzlingly savory sandwiches, caramelized creamed corn, and a tasty selection of smoky meats and briskets; It's no wonder that this award-winning restaurant even sells merch! You can find it near the WonderWorks attraction.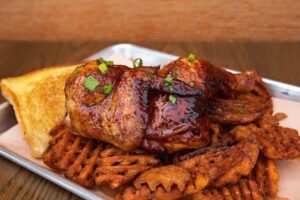 2. Thai Thai Cuisine
Thai Thai is home to the most exceptional Thai food in Branson, and it's just as authentic as it is delicious; The locals will tell you all about it. The portions are pretty generous, so this restaurant is a good option if you're wanting to share food amongst a group. The Massaman Curry is highly popular for its aromatic and creamy sauce that's served with a side of fragrant rice, and for dessert, the mango sticky rice is a tropical and tasty way to finish your meal!
3. Indian Clay Oven
This family-owned restaurant might seem small, but don't let its size fool you; It serves the finest authentic Indian dishes in all of Branson, by far. A fan-favorite is the Chicken Korma, which is a uniquely spiced and tender chicken dish served in a savory cashew sauce over a bed of rice. They also have a host of awesome vegetarian options. Don't forget the cheesy naan bread!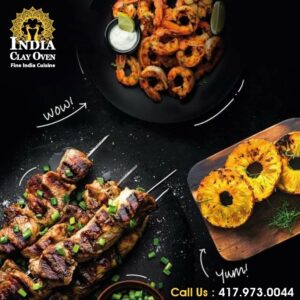 4. The Branson Taco Truck
Home of the quesotaco! You'll find them parked right next to the iconic Branson Ferris Wheel. The Branson Taco Truck is a fairly recent addition to Branson, but it's already gained massive popularity for its deliciously authentic Mexican food— particularly the quesotacos! Be sure to douse those in lotsa lime juice, it tastes absolutely fabulous. So if you enjoy Mexican food, we can confidently assure you that this place is essential to your bucket list.
5. Starvin' Marvin's
This is arguably the seafood capital of the Strip. The restaurant is equipped with a huge buffet that's brimming with a diverse selection of freshly-cooked dishes, which includes southern classics such as frog legs and hushpuppies. You'll want to go back for seconds. It's also within walking distance of two theaters, so its location is highly convenient; It makes for the perfect place to grab dinner before a night show!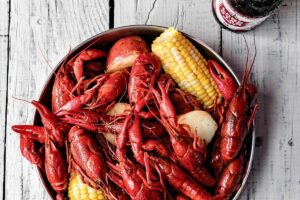 All the restaurants above come heavily recommended by both locals and regular visitors (and us!) and enjoying the tasty food the Ozarks have to offer is one of the best ways to round out your vacation. Thank you for reading, we hope you enjoy your time in Branson!