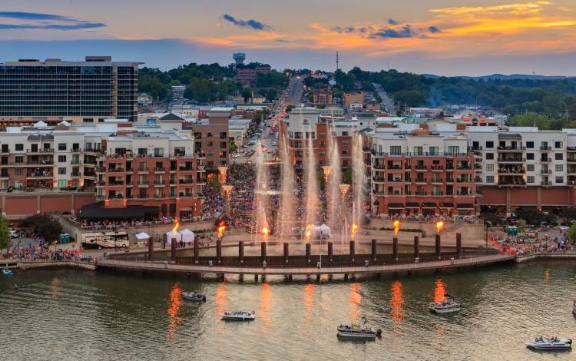 Nestled on the shores of the beautiful Lake Taneycomo in the picturesque Ozark Mountains, Branson Landing has established itself as the epicenter of entertainment, shopping, and dining in Branson, Missouri. Since its grand opening in 2006, Branson Landing has become a must-visit destination for both tourists and locals alike, drawn by the stunning lakeside views, vibrant atmosphere, and diverse offerings that cater to all ages and interests.
Read more
A Dynamic Shopping Experience
Spanning across 95 acres and boasting over 100 specialty stores and kiosks, Branson Landing promises a shopping experience that is second to none. From national retailers like Belk and Bass Pro Shops to charming local boutiques, Branson Landing caters to a wide range of tastes and budgets.
For those in search of unique and local souvenirs, The Copper Coin and The Branson Quilts shops offer a delightful range of Missouri-made products. Meanwhile, fashion-conscious visitors can enjoy a diverse selection of clothing and accessory stores, including Francesca's, H&M, and many more.
A Culinary Adventure
Branson Landing's vast array of restaurants and eateries caters to the most discerning food enthusiasts. Visitors can choose from casual dining establishments like Famous Dave's BBQ or LandShark Bar & Grill to fine dining options like the renowned Cantina Laredo or Black Oak Grill. The diverse range of cuisines on offer ensures that there's something to suit everyone's palate, from Italian and Mexican to classic American fare.
Thrilling Entertainment
No visit to Branson Landing is complete without experiencing its entertainment scene, which is designed to provide fun for the entire family. The dazzling Branson Landing Fountain Show, a synchronized display of water, fire, light, and music, is a sight to behold and takes place hourly throughout the day.
For adrenaline-seekers, Parakeet Pete's Steampunk Balloon and Waterfront Zipline offer a unique and exciting way to take in the breathtaking views of Lake Taneycomo and the surrounding area. And, of course, Branson Landing is just a stone's throw away from the world-famous live entertainment district, offering easy access to a multitude of shows, concerts, and performances.
A Place to Relax and Unwind
After a long day of shopping, dining, and entertainment, visitors can enjoy a leisurely stroll along the 1.5-mile-long boardwalk that hugs the shoreline of Lake Taneycomo. This serene walkway provides an opportunity to take in the natural beauty of the Ozarks while enjoying the soothing sounds of the lake's gentle waves.
For those who prefer to indulge in some relaxation, Hilton Branson Convention Center Hotel and Hilton Promenade at Branson Landing offer luxurious accommodations with stunning lake views, top-notch amenities, and easy access to all the attractions that Branson Landing has to offer.
Branson Landing truly is the heart of the Ozarks' entertainment and shopping scene. With its unmatched variety of shopping, dining, and entertainment options set against the breathtaking backdrop of Lake Taneycomo, it's no wonder that Branson Landing continues to draw visitors from around the globe. So whether you're a seasoned Branson veteran or planning your first trip, make sure to include Branson Landing in your itinerary and experience the best that the Ozarks has to offer.