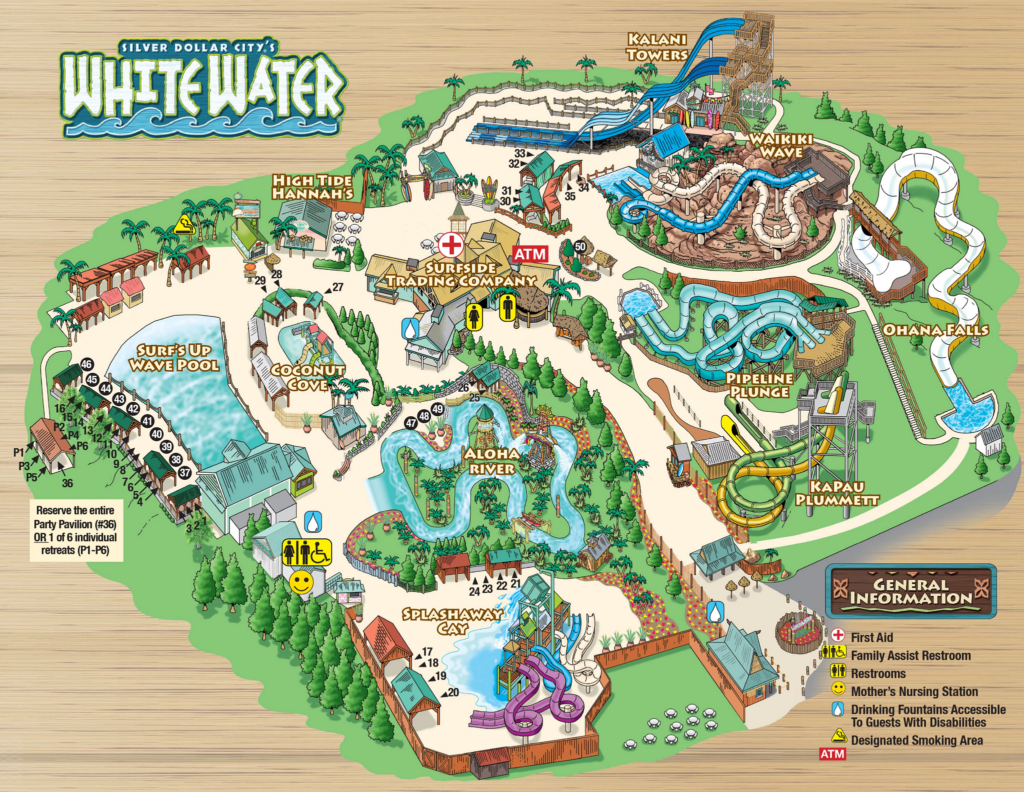 Branson, Missouri is home to one of the most popular water parks in the country, White Water. Spanning over 13 acres, this water park offers a wide variety of thrilling rides, relaxing attractions, and fun activities suitable for all ages. Recently voted as one of America's Best Outdoor Water Parks by USA Today, it's no surprise why this destination attracts visitors from all over.
Locals often refer to White Water as the Silver Dollar City water park since it's owned by the same company as the famous theme park. With so much to offer, let's take a closer look at what makes this water park so special.
Read more
Attractions at White Water
White Water offers several exciting water rides and attractions that cater to different levels of thrill-seekers. Here are some of the park's most popular attractions:
Kapau Plummet – This ride is not for the faint-hearted. Guests stand inside a capsule, and the floor drops beneath them, sending them plummeting down a 245-foot slide at speeds of up to 26 miles per hour.
Kalani Towers – This towering attraction includes two seven-story water slides and an aqua launch chamber. Guests can choose between the thrilling plunge or a slightly less intense twisting and turning slide.
Surf's Up Wave Pool – With a capacity of 500,000 gallons, this wave pool produces ocean-like waves that guests can swim, float or jump over.
Ohana Falls – A multi-level interactive water play area for kids of all ages, Ohana Falls features over 150 interactive elements, including a giant tipping bucket, slides, and water guns.
Coconut Cove – This relaxing oasis includes an 800-foot-long lazy river, a waterfall, and plenty of lounge chairs and shaded areas to unwind.
Don't miss these White Water Amenities
White Water offers several amenities to ensure a comfortable and enjoyable visit:
Food and Beverage – The park offers several dining options, from quick bites to full meals. Guests can enjoy burgers, hot dogs, pizzas, salads, and more. The park also has a variety of ice cream, funnel cakes, and other treats.
Locker Rentals – Locker rentals are available for guests who need a safe place to store their belongings while they enjoy the park. Lockers can be rented for a daily fee.
Souvenir Shops – The park features several shops where guests can purchase White Water souvenirs, such as t-shirts, hats, and other memorabilia.
First Aid Stations – There are several first aid stations located throughout the park for any medical needs that may arise.
Tips for a Memorable Visit
To make the most of your visit to White Water, consider these helpful tips:
Arrive Early – White Water can get crowded during peak hours, so arriving early can help you beat the crowds and ensure a more enjoyable experience.
Rent a Cabana – If you want a relaxing private space, consider renting a cabana. Cabanas include a seating area, ceiling fan, locker, chaise lounges, and a 32" TV with DISH Satellite Service.
Wear Sunscreen – With plenty of outdoor activities, it's essential to wear sunscreen to protect your skin from the sun's harmful rays.
Check the Weather – White Water may close in inclement weather, so be sure to check the forecast before your visit.
White Water is a must-visit destination for anyone looking for a fun-filled day at a water park in Branson, Missouri. With a wide variety of attractions, relaxing amenities, and helpful tips, there's something for everyone to enjoy. Be sure to check the park's website for the latest hours of operation, ticket prices, and specials. Whether you're traveling with family or friends, you'll create lasting memories at White Water.