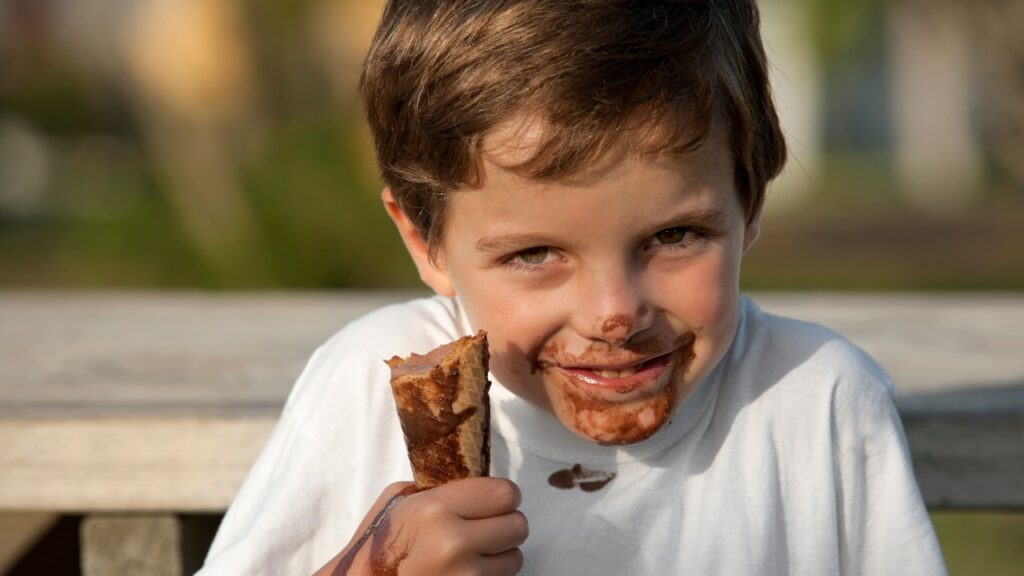 There is no such thing as a day without ice cream when you are visiting Branson. Since ice cream is fun and cheap for all ages, I've rounded up the best ice cream Branson Mo has to offer. From nationwide chains to locally-owned shops, I've listed my top 7 favorite places to grab ice cream in Branson.
1) Andy's Frozen Custard 
Andy's Custard is a Branson favorite known for their variety of frozen custard treats and mouth-watering concretes. You can find this free-standing custard shop on the strip located beside the ferris wheel. 
Although the line might seem intimidating and time consuming, Andy's top-notch staff will have you holding an ice cream cone and a handful of napkins in no time. 
From 11am-11pm, this custard shop offers sundaes with an assortment of toppings, root beer floats, seasonal concretes, and much more.
Forget about the calories and indulge in a sweet treat today!
Read their Google Reviews here.
2) The College Creamery 
Located in the Keeter Center at College of the Ozarks you will find Branson's best homemade ice cream made in house daily by students working to earn their tuition. While there you can find the highly rated Dobyns Dining Room with a fine dining experience, or you can skip the restaurant altogether and head straight to the ice cream bar. 
The College of the Ozarks offers a wide range of other exciting experiences as well. You can visit the Ralph Foster Museum, Gaetz Tractor Museum, Hoge Greenhouse, the Stained Glass and Candle shop, and much more all while enjoying your ice cream. 
Read their Google Reviews here.
3) Mr. B's Ice Cream Parlor 
Wanting to keep it local? Mr. B's Ice Cream Parlor is the oldest standing ice cream shop in Branson, Missouri and is owned by a local performer, Timothy Haygood. 
Located on the corner of W Main St and Veterans Blvd, Mr. Bs offers a variety of over 20 flavors. 
In addition to their delicious ice cream, Mr. Bs also serves freshly baked, hot cobbler which can be added along with any flavor. 
You can satisfy your sweet tooth at Mr. B's Ice Cream Parlor right now!
Read their Google Reviews here. 
4) Main Street Pops
Main Street Pops is a hidden gem located in the heart of Branson's Historic Downtown. In this one-of-a-kind popsicle shop, you can enjoy all of your favorite desserts on a stick. With ice cream, fruit-based pops, and sorbet-style pops, Main Street Pops has something for everyone.
In the customizable pop shop, you start by choosing your base. Following this, you choose a dipping, topping(s), and a dusting. 
However, It's not just the desserts that are great; their trendy shop makes for a perfect photo opportunity.
Head there today to check out the coolest and sweetest place in the Ozarks!
Read their Google Reviews here
 5) Culvers 
"You dream it, We'll dish it." 
Imagine any flavor of custard that you can think of, Culver's serves it all. Alongside their many flavors, Culvers will keep you coming back with their flavor of the day.  
In addition to custard, they also serve an array of delicious food and are well-known for their excellent cheese curds.
 Don't walk, RUN to Culvers for the best custard in town.
Read their Google Reviews here.
6) Freddys Frozen Custard & Steakburgers
Dessert before dinner… I think yes! 
Freddys is not your usual fast food restaurant with few ice cream and custard choices. Instead, they offer a wide selection of frozen custard treats along with many savory dinner and lunch options. 
My personal favorite menu item is a create your own cup loaded with vanilla ice cream, chocolate syrup, rainbow sprinkles, and gummy worms! 
Visit Freddy's for dessert and dinner today!
Read their Google Reviews here.
7) Sweet Susie's frozen treats
Sweet Susie's Frozen Treats is a MUST when visiting Branson Missouri. This family owned and operated ice cream shop will serve you with a bright smile with high and quality service. Susie's offers over 21 flavors and 45 toppings to choose from; this shop is a froyo galore.
Looking for a vegan option? Don't worry because Sweet Susie's has your back on all things vegan! 
Having dessert here is the perfect way to end your day!
Read their Google Reviews here. 
Having ice cream on vacation is a cheap way to have fun with the whole family.