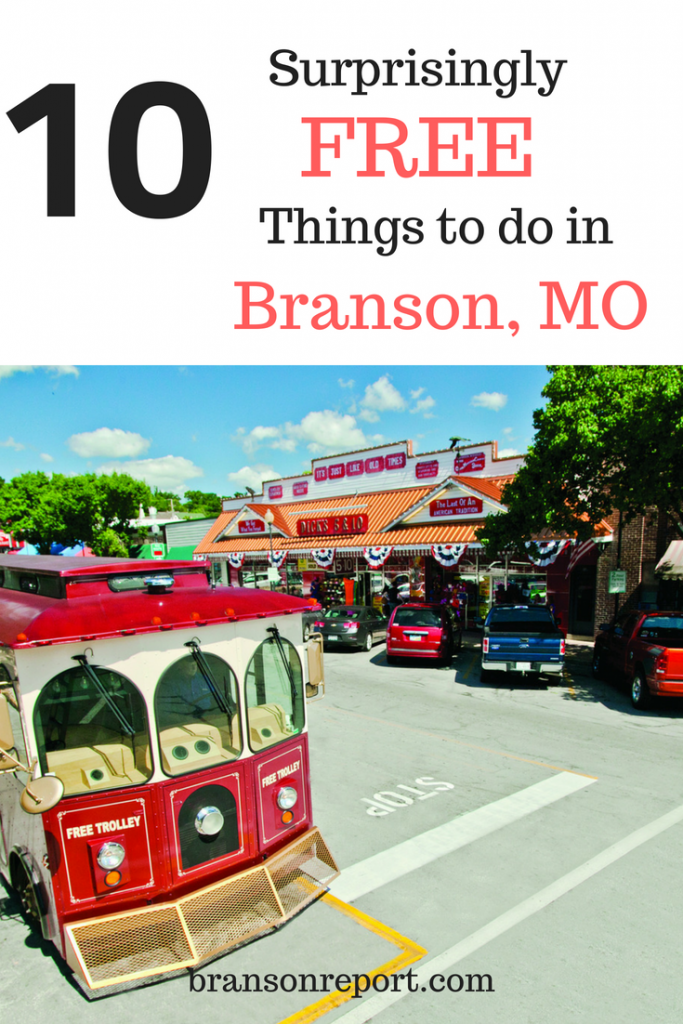 Welcome! Below I walk you through 10 FREE detailed, and exclusive attractions found in Branson, Missouri. Branson provides an array of wonderful activities for visitors, but not all of them are advertised. Explore past the popular entertainment, and experience these free things to do in Branson.
Exploring the Landing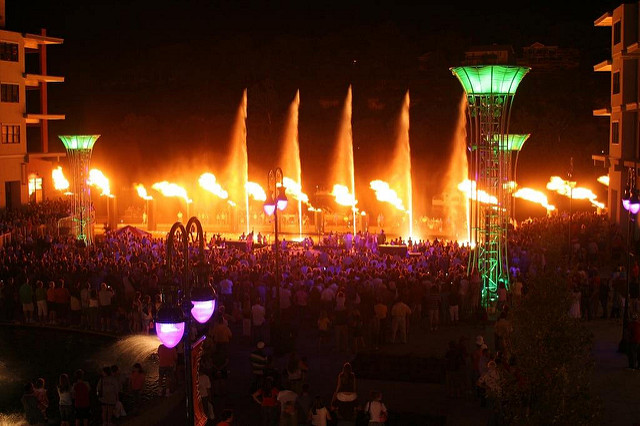 The Branson Landing is a unique outdoor mall that peaks the appeal of shoppers and spectators alike. This outdoor mall overlooks the beautiful, placid waters of Lake Taneycomo and offers much more than just shopping!
Walk the lakefront boardwalk placed on the backside of The Landing and, catch a glimpse of Branson's natural beauty. Small docks placed along the boardwalk offer intimate and serene moments for those seeking an escape from the bustling shoppers. At the end of this path lies North Beach Park. This private park, furnished with benches and access to small docks, is a wonderful place for a family picnic! Relax beneath the park's towering trees and, enjoy some breathtaking sights.
As if free sightseeing and an outdoor frolic weren't enough, The Landing also houses the town's only synchronized water and fire show! The unique fountain, located in the middle of The Landing, provides an entertaining, FREE show for all nearby spectators. Tourists and locals alike have marveled at this unique experience for years, and all agree is a must-see!
Stockstill Park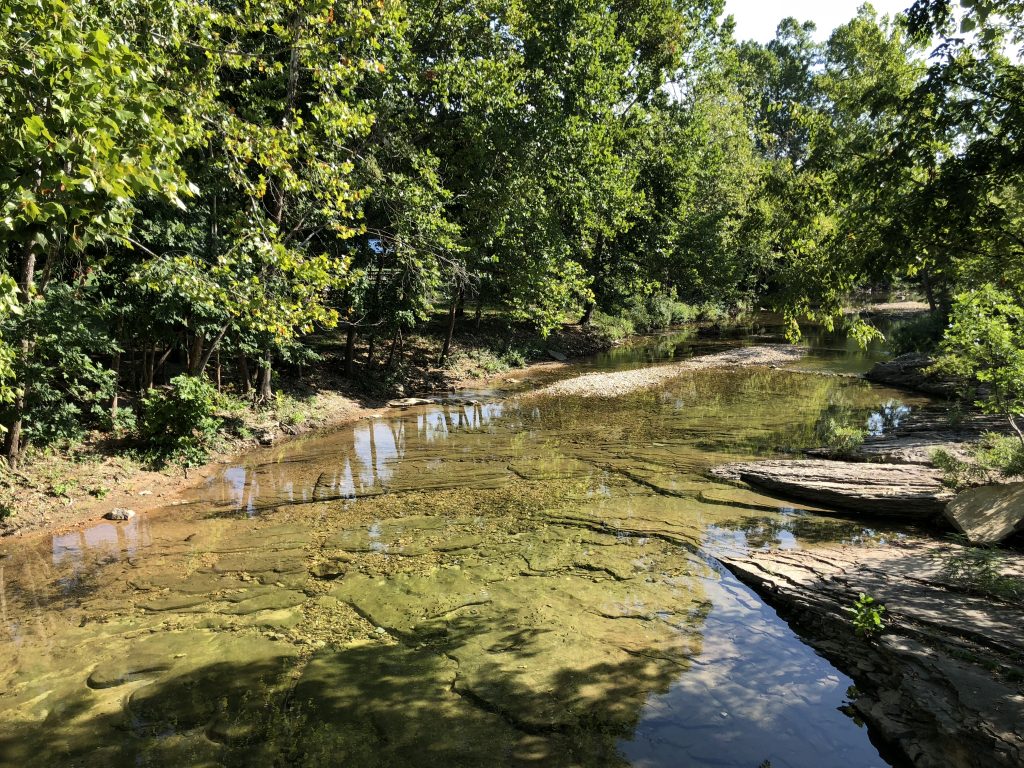 Stockstill is the crown jewel of Branson parks. This unique, 62-acre land embodies everything a visitor could possibly enjoy in a park. This destination serves as a catch-all for those seeking: trailblazing, a game of tennis, state of the art playground equipment, a swim in the creek, skateboarding, a place to let your pup roam free, and much more!
The playground offers easy access to the creek, and visitors are welcome to stroll alongside the tranquil waters, or even take a dip! Dangle your feet over the bridge overlooking the waters, or walk hand-in-hand along the beautiful trails of Stockstill Park.
The preservation of the area being of utmost importance, the grounds are provided consistent upkeep to ensure the protection of this park's natural beauty.
Upon visiting, make sure you remember your baseball, tennis, and skating equipment as Stockstill Park houses 6 tennis courts, a skate park, and a baseball field. Being a great space for picnics, make sure you snag a cooler as well! Whether visiting for family fun or seeking some alone time, Stockstill Park is certainly at the top of Branson's list of free attractions!
College of the Ozarks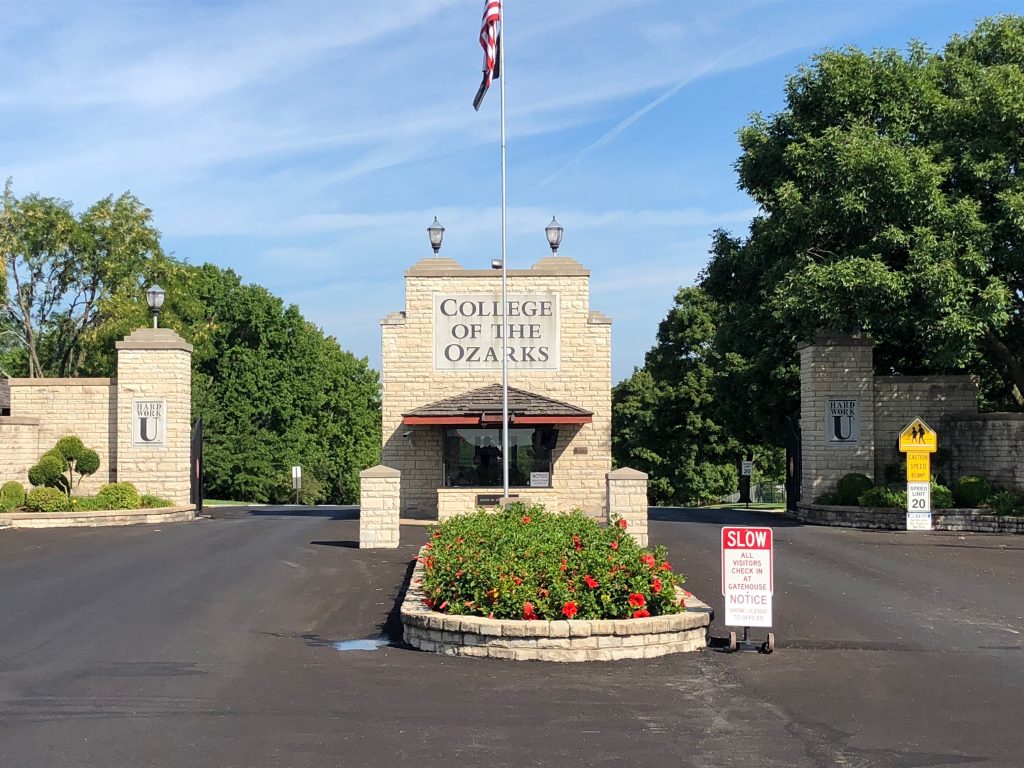 This school makes a point to not only provide affordable opportunities for students but visitors as well. You'll have the opportunity to explore the campus's 1,000 acres of land housing several free attractions including: Edwards Mill, Patriots Park, The Fruitcake and Jelly Kitchen, Hoge Greenhouses, Williams Memorial Chapel, and Pointe Lookout.
Edwards Mill, serving as a showcase facility for all student-made products, offers a closer look at the students' work ethics and artistry. Providing an authentic 19th-century experience, this fully functioning gristmill makes all their own cornmeal, biscuit mix, stone ground, pancake mix, and much more (all available for purchase). Downstairs you'll find a museum filled with turn of the century industrial equipment. All displays have a description offering the origin, maker, and overall history of the item. Located upstairs is their basket weaving studio where you can find students weaving their own baskets. The baskets are available for purchase, and the students will even show you how to weave your own! Outside you'll find a genuine waterwheel amidst towering trees. The area is beautifully kept and not only offers knowledge of time's past but also a tranquil view of the duck and swan populated waters of Lake Honor.
Another C of O favorite has to be the Tractor Museum. Not just limited to a historical knowledge of 20 plus tractors, this museum kindles an overall nostalgia of the early 19th century with odes to John Deere and other forgotten crafts of the era. Meander beneath the hay bale chandeliers and industrial equipment hanging overhead. For car lovers, check out the back room housing a genuine 1929 Ford Model A Huckster!
Before exploring all that C of O has to offer, make sure you stop at Patriots Park, located by the entrance gates of the school. This park provides a sobering educational tour of several memorials honoring those who sacrificed their lives for our freedom. The unique park sits adorned with bronze statues providing a reminder of the loss experienced for our reaping of liberty. Take a walk amongst the many sugar maple trees honoring the patriots of our country. This park certainly inspires a fervent gratitude for the freedoms we solemnly enjoy today.
Enjoy free samples of student-made jams and jellies at the Fruitcake and Jelly Kitchen, or take a stroll through the dazzling, student-made architecture of William's Memorial Chapel. Whether to experience the thousands of plants offered in the Hoge Greenhouses or to overlook a serene view of Branson at Point Lookout, College of the Ozarks is a perfect and affordable experience for visitors.
Trails and Overlooks

While the strip features the glitzy side of Branson, Missouri, the town is also rich with beautiful trails and breathtaking overlooks.
Branson offers plenty of free sightseeing for those seeking an experience off the beaten path. A local hub for sightseeing is the Branson Scenic Overlook located on Hwy 165 (google map directions "here"). Displaying not only the dazzling lights of the Branson strip, this outlook also provides an all-encompassing view of the Ozark's natural beauty. Grab some binoculars and check out these other must-see overlooks: the Peninsula Observation Loop, the Ruth and Paul Henning observation tower, the upper deck of the Dewey Short Visitor Center, the dam viewing, and Point Lookout.
To touch on a few of these overlooks, the Peninsula Observation Loop can be found just across the dam from the Dewey Short Visitor Center. This observation loop provides stunning views of the dam, and an expansive outlook over Table Rock Lake. Here visitors will also find an easy pathway down to the shoreline. While in the area, make sure you also stop at Dewey Short Visitor Center. The backside of the Visitor Center, made entirely of glass, has two upper decks towering above Table Rock Lake providing expansive views of the water, Table Rock Dam, and the immaculate Chateau Resort. Take a quick trip across the street and find an unfrequented road leading to the best view of the dam. Though this is a public access viewing, the area is little advertised and remains secluded.
While there are several trails in the area, Table Rock State Park and The Ruth and Paul Henning Conservation are most recommended. The Table Rock State Park is found conveniently in the same area as the Dewey Short Visitor Center and features a 2-mile path along the shoreline. This trail is great for walking, jogging, or biking, but make sure you bring along a first aid kit, as the terrain may be craggy in certain places. The trail also welcomes pet walking and comes equipped with pet waste stations.
The Ruth and Paul Henning Conservation provides Branson's only free observation tower. Enjoy the natural scenery of Branson at a 40-foot view from the observation tower, or walk among the conservation trails rich with Ozark wildflowers, and forested area. The conservation also expands to Roark Creek where fishing is welcomed.
Trolleys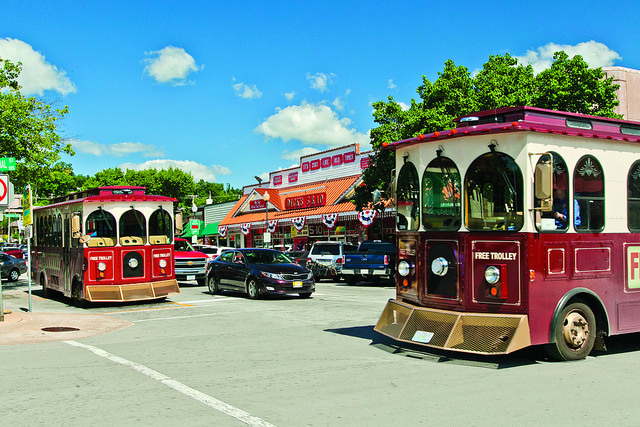 Sparky the Trolley provides a unique tour of downtown Branson and is completely FREE! This trolley service has 13 stops, and will never keep you waiting more than thirty minutes. The brass interior and old-fashioned wooden benches of the trolley ignites an early 20th-century nostalgia that takes you on a journey through time.
The free trolley ride embarks on a journey past unique stores such as Dicks Five and Dime and gives you a glance of wonderful dining options for your evening. If you find the landing parking lot overly congested, the trolley provides free rides down to the entrance on both sides of The Landing. Park at Liberty Plaza, and enjoy some Mr. B's Ice Cream while you wait for your chauffeur service to the Landing. Or grab a bite to eat at Clocker's Cafe before perusing your complimentary ride through historic downtown Branson. Trolley's wait for one minute at each stop so guests don't have to rush.
Whatever the case, this one-of-a-kind, free service is a great family-friendly attraction for all visitors.
Dewey Short Visitor Center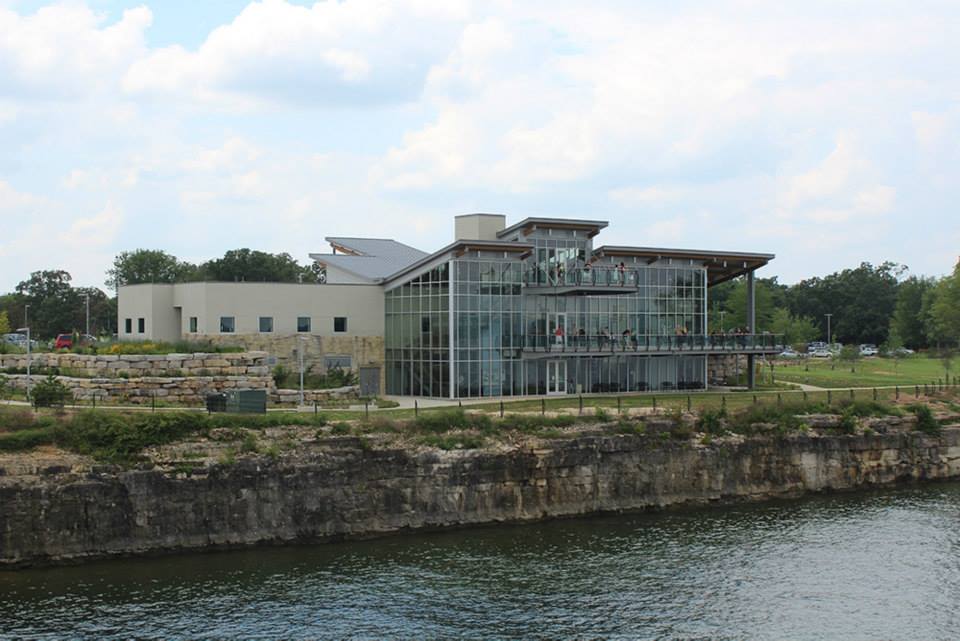 The Dewey Short Visitor Center stands as Branson's most salient free contribution to the community. This Visitor Center is located on the edge of Table Rock Lake and serves as a bank of education promoting the importance of conservation.
The Dewey Short Visitor Center houses plenty of educational activities for children and adults alike. Upstairs (accessible by stairs or elevator) leads to an upper deck overlooking the beautiful waters of Table Rock Lake. Downstairs lies a plethora of educational discovery involving a timeline of the Ozarks from the Osage Indians to today, an interactive activity showing the importance of wearing a lifejacket, the history and making of Table Rock Dam, and an interactive exhibit walking you through the valuable use of hydropower. The Visitor Center serves as a discovery of nature as well, providing valuable knowledge on Ozark wildlife and endangered species.
Believe it or not, there's a lot more to the Dewey Short Visitor Center than a free and interactive museum. The Center also provides free programs that are great for the whole family. All of these programs center around nature and involve a range of activities including scavenger hunts, nature walks with park rangers, crafting, games, and much more! Contact Dewey Short's Visitor Center here to find out this month's free programs!
Fishing and Swimming Access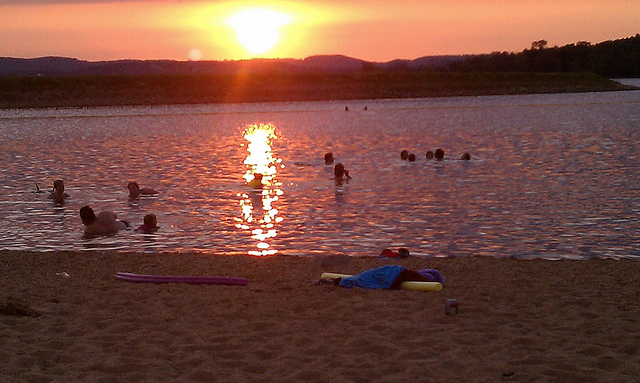 Branson prides itself on having some of the best waters for fishing. Take a look at this travel fishing rod that comes equipped with a carrying case! Though the waters are famously known for bass and trout fishing, an abundance of other fish can be found in these waters. Take a look here at all the other fish species inhabiting Branson lakes.
If visiting Branson on a budget, fishing is a wonderful activity for families as most public access areas also come equipped with picnic areas, swimming beaches, and restrooms. Click here for a list of all public fishing ramps and shore locations found in Branson.
Of course, though most public fishing and swimming locations serve as a free activity for the community, fishers are still required to have a fishing license. Information on fishing licenses can be found here.
If fishing maybe isn't your thing but sunbathing and swimming is, you can follow this link to a list of 16 public swimming areas around Table Rock Lake. Be aware that some places, like Moonshine Beach, do charge for vehicle access (this is usually around $5 per vehicle).
Shepherd of the Hills Fish Hatchery
The Shepherd of the Hills Fish Hatchery houses an array of nature discovery as a free gift for visitors. The Hatchery inhabits about three-quarters of a million fish, varying in stages of development, and can be fed by visitors for only a quarter! Inside the Hatchery, you'll be given the opportunity to watch a free 8-minute video on the development and housing of the fish they have on the property.
Don't be mislead by the title, this Fish Hatchery provides knowledge on much more than just Ozark fish. The Hatchery also gives extensive knowledge on plants and wildlife. In their wildlife exhibit, you'll find turtles, lizards, and other Ozark species.
If you're wanting more information on hiking, or local conservations, the Hatchery also provides such material. You'll be able to find information on all public fishing locations (that aren't resort property), and you can also purchase a fishing license from the Hatchery.
Explore the beautiful butterfly garden or pick up a pamphlet on how to make your own at home! The Shepherd of the Hills Fish Hatchery is certainly the crown jewel of Branson's free attractions.
Wineries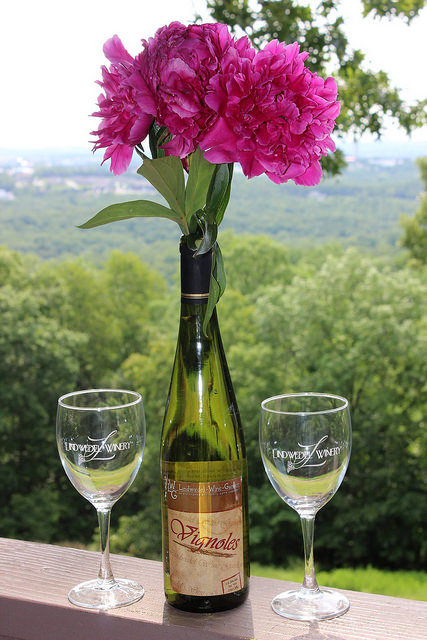 If looking for a way to unwind, what better way than a free wine tasting? Branson's Curling Vine Winery provides not only free wine tasting but also a free tour! Escape for an afternoon and have a taste of this winery's most unique line of fine wine. Or, if you do decide to bring the kids, the Curling Vine Winery provides free juice samples for the younger crowd as well.
If you're interested in visiting other wineries, here's a list of Branson's wineries!
Live Music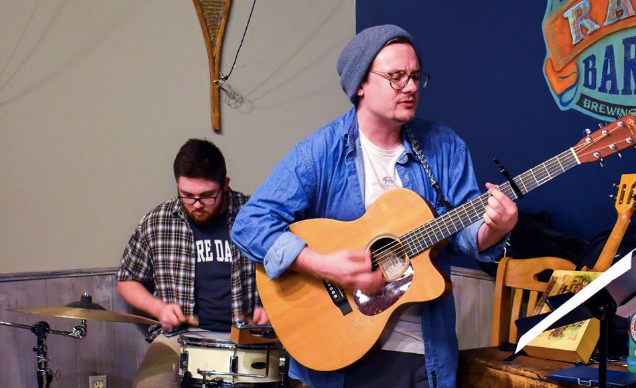 Branson being known for a thriving culture in love with music has cultivated several hot spots known for live entertainment.
The most popular venues in Branson include The Paddlewheel, Smithcreek Moonshine, and Vintage Paris. All of these venues provide a broad spectrum of atmospheres, and none require a cover charge. The Paddlewheel Restaurant, a decommissioned sternwheeler floating on Lake Taneycomo, features live music every weekend. Smith Creek Moonshine is a saloon-style distillery and restaurant that houses live music every weekend. Come in to hear local music, or to taste one of their eleven unique samples of moonshine for FREE!
Vintage Paris is a coffee and wine cafe located in Hollister, Missouri (neighboring Branson) and provides live music in their beautiful courtyard. Within this laid-back cafe also lies a free miniature library and complimentary boardgames for all interested.
There you have it! You can now feel fully prepared to enjoy everything Branson, Missouri has to offer. From thrilling educational adventures, to evening strolls on the boardwalk, this area is a true gold mine for affordable family fun!