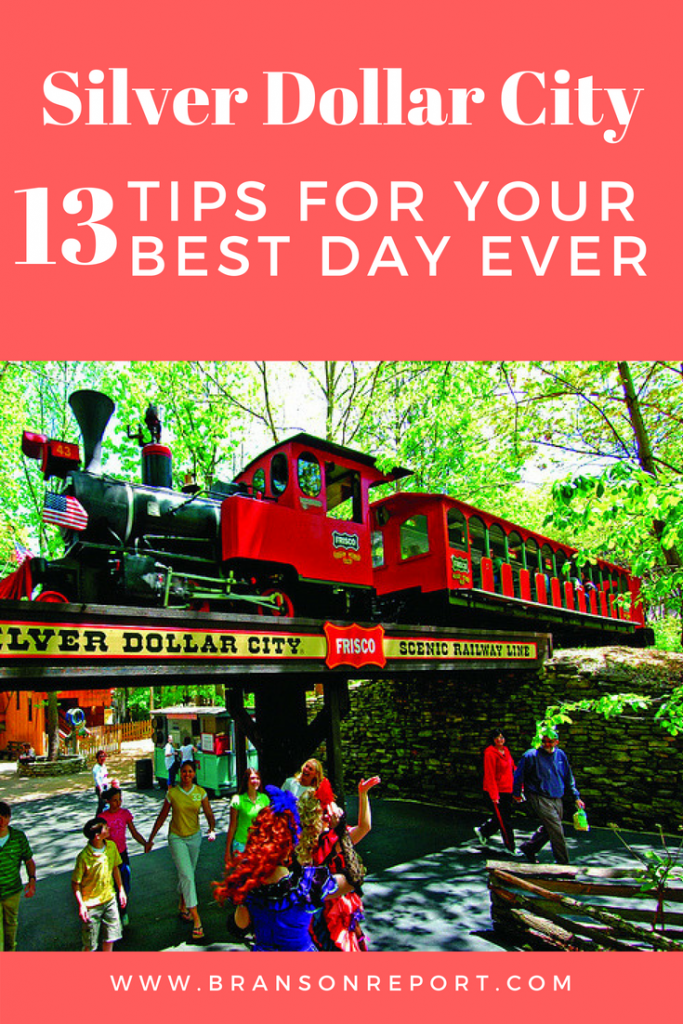 If you've been to Silver Dollar City lately, you've probably noticed that it has grown! Never content to stand still, the planners behind this fantastic theme park continue to increase their footprint in the Ozark hillside outside of Branson, MO.
When I was a kid, Silver Dollar City was an easy one-day visit. Not anymore! If you are visiting the Branson area and want to come to this park (BTW…you should!), you need to carefully plan your visit to ensure you don't miss anything.
Here are my top 13 tips to make sure you fully enjoy your time at Silver Dollar City. [Update…I've added a bonus tip at the end. This is one I just found out about myself.]
1. Don't Pay to Park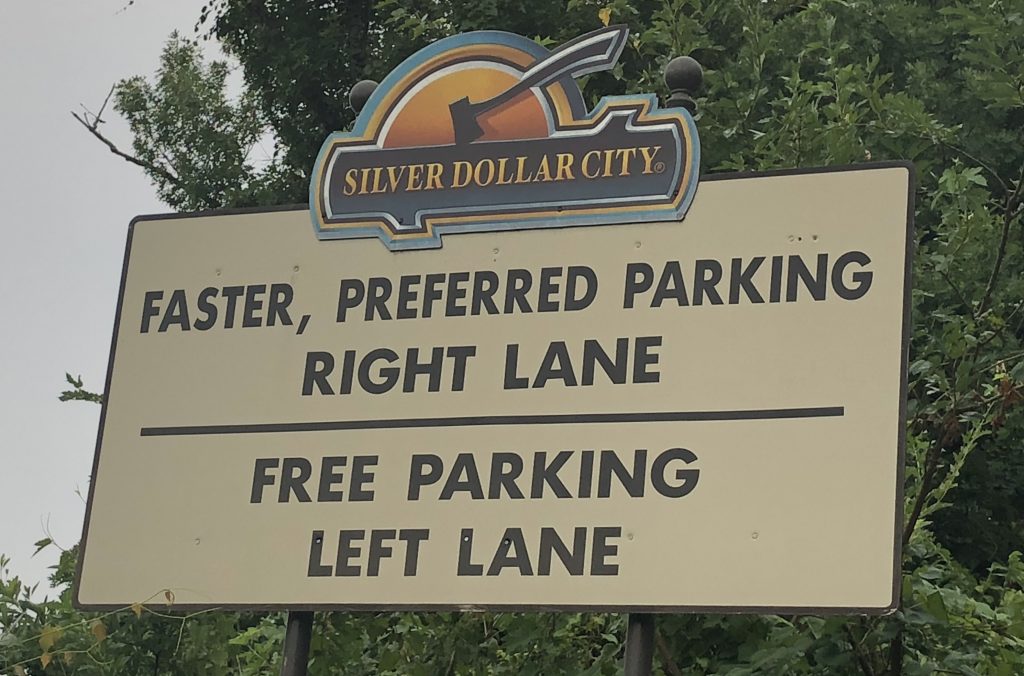 If you've never been here, the parking options can seem a little overwhelming. There are options for paid parking and then there's free parking. My advice is to pass on the paid options and go to the free parking lots. Don't worry…you won't have to walk far. At each parking lot there is a pickup area for the trolley to the front gate and the wait is never very long. Plus…the trolley is part of the experience!
Here's a map of the Silver Dollar City parking.
2. Do the Cave Tour
In the beginning, Silver Dollar City was built around a cave tour. The tour got so popular that long lines would form waiting to get into the cave. The owner, Mary Herschend, decided to build a few buildings to replicate an 1880s mining town and offer some entertainment for the waiting crowds. Before long, the town itself became an attraction and began to grow into what we have today.
There can still be long lines today to get in the tour, but the wait is worth it. You don't want to miss it!
This cavern is massive. In fact, it's so big that in 1994 there were FIVE hot air balloons floating in the main cavern at the same time.
There's a lot more to see than just a big room too. There are passageways with no known exits, geological formations that are thousands of years old and if you look closely you can see the occasional bat and salamander.
Be sure to wear something comfortable. The tour is 60 minutes long and you'll go up and down some combined 600 stairs as you descend, and then partially ascend, 500 feet below ground. Thankfully, the climb out isn't all manual. There's a great cable pulley-system train that'll carry you for most of the way up.
If you're feeling extra adventurous, try the lantern tour. The lights in the cave are extinguished and you only have your lanterns. This allows you to experience the cave in much the same way the early explorers did. It'll also make you thankful for electricity!
The lantern tours are an additional fee, but the tour last longer and visits rooms that the regular tour does not.
If you're not paying close attention, the entrance to Marvel Cave is easy to miss. As you walk through the ticket gates you'll go around a bend and into a store. The cave desk is on your right. One of the workers can tell you when the next tour is set to begin and whether or not they suggest getting in line to wait. If you don't want to wait, but want to see the cave, check with them about their Cave Lover's pass. It'll help you break in line for a small fee.
If you'd like to see more about the cave tour before you commit to it, check out the video "Journey to the Center of Marvel Cave" by Attractions Adventures.
You may also want to see the page on Silver Dollar City's website about the cave.
3. Don't Buy A Single Day Pass
Although it is hard to find a discounted option for Silver Dollar City tickets, you can get a better deal with the right information. Here are two ways to get more bang for your buck and resulting time in the park.
Arrive After 3:00 PM
If you come to the park after 3:00 with a single-day pass, the next day is free. (The only exception is during the Christmas festival where you must arrive after 7:00 to get the bonus day.)
Going late in the evening gives you a great way to get a "lay of the land" and figure out how you want to plan your full day at the park.
2 Days for 1
Although this is not available at the Silver Dollar City ticket office, there are some vendors around town that sell 2-for-1 tickets. You pay nearly the same price as the one day rate, but can visit two days. Sweet!
You may see signs around town advertising the 2-for-1 special, but if you want to get them ahead of time you can just visit Reserve Branson and take care of it before you get there.
In addition to these two methods, there are a some other ways to save money on admission. There's a Military discount, Price Cutter Thursdays and a couple of other ways to save. To see them all, visit the Silver Dollar City offers page. 
See my article The Complete Guide To Discount Silver Dollar City Tickets
4. Visit during a festival
One of the reasons that visiting Silver Dollar City never gets old is that something is always different. They've done a fabulous job in giving their guests reasons to visit several times in the same year with their festival schedule.
During these festivals the entire park is transformed to match the theme of the festival.
During Bluegrass and BBQ you can smell the sweet aroma of hickory smoke and the sound of the mandolin. Bill Monroe would almost certainly approve.
For the Old Time Christmas festival, the park is covered with 5 million Christmas lights and more than 1,000 Christmas trees. This is what a storybook Christmas feels like.
The other festivals are equally fantastic and you should plan to experience each of them.
5. Ride the train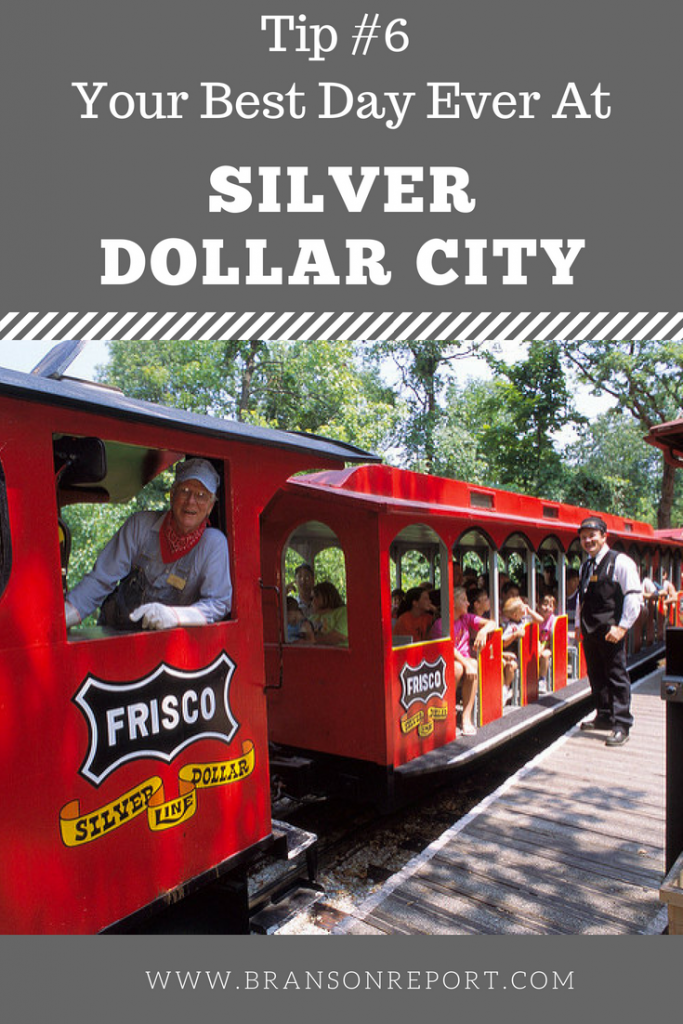 When Silver Dollar City decided it was time to add a ride to the park, an old-fashioned steam train was the obvious choice.  In 1962, the Frisco Silver Dollar line was opened and still looks nearly the same today as it did then.
This train uses authentic 1930s era steam engines which run on a narrow-gauge track. It takes a slow path through the park and out into the Ozark countryside. Towards the middle of the ride, there is a "robbery." The train robbers try their best to divert the attention of the conductor so they can rob the passengers. This part has always been just a little bit hokey to me but the kids will absolutely love it!
During the Old Time Christmas Festival,  there is no robbery act. Instead, the train becomes a Christmas carol "sing-along" train and you'll stop in front of Grandpa's cabin and hear him tell the Christmas story.
6. Stop by the Wilderness Church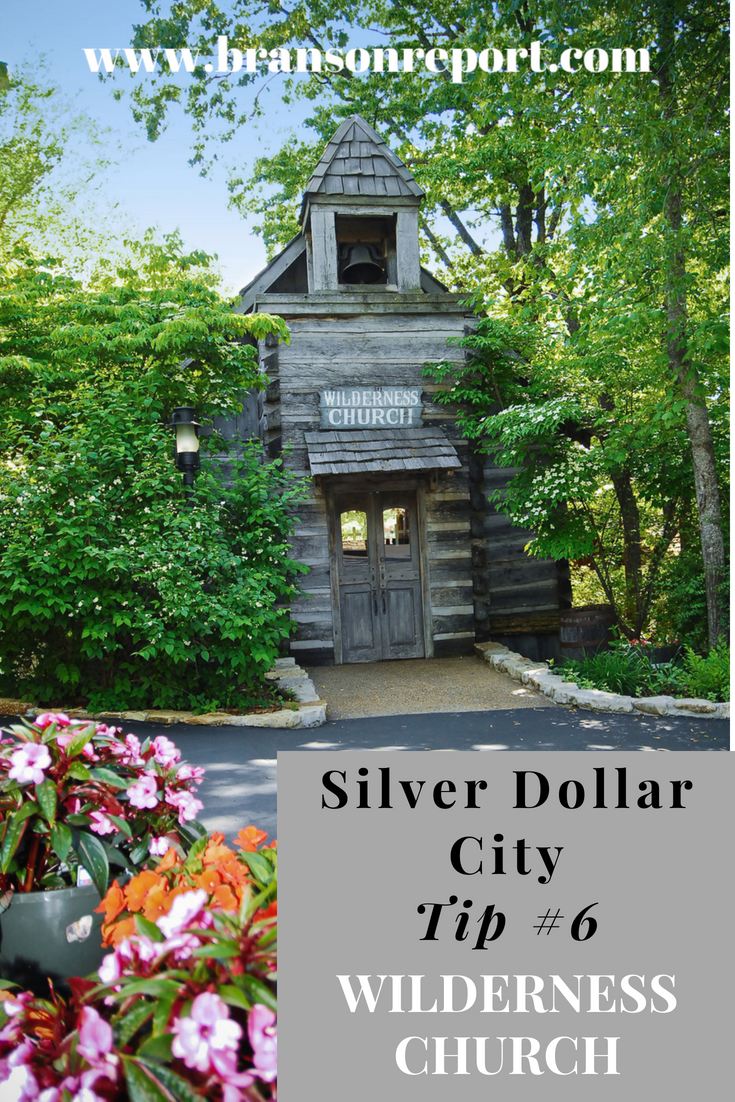 Although a place of quiet and tranquility is incongruous with a theme park, the Wilderness Church offers just such a resting spot.
Originally constructed not far away back in 1849, it was dismantled log by log and rebuilt at Silver Dollar City back in the sixties. If you go in, be sure to check out the pulpit. It was made from a giant sycamore tree that once stood on the site where the church was built.
7. Check Out the Food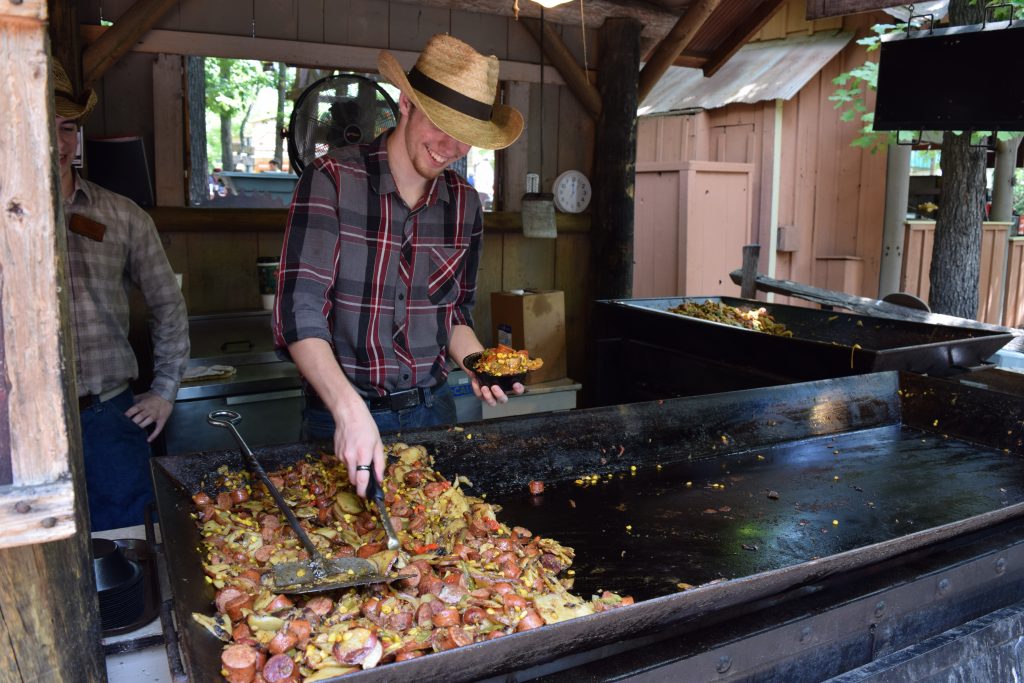 Most theme parks have food selection that best appeals to 8 year olds. Crappy hamburgers or chicken strips is usually the extent of the culinary offerings.
Not at Silver Dollar City!
As you walk around their park you'll smell the difference. One of my favorites is the Sausage Medley (pictured above). It's a succulent blend of Eddy's smoked sausage, red skin potatoes, red & green peppers, sweet corn and onions.
For a snack, you really ought to check out their fried pork skins. There's nothing like it.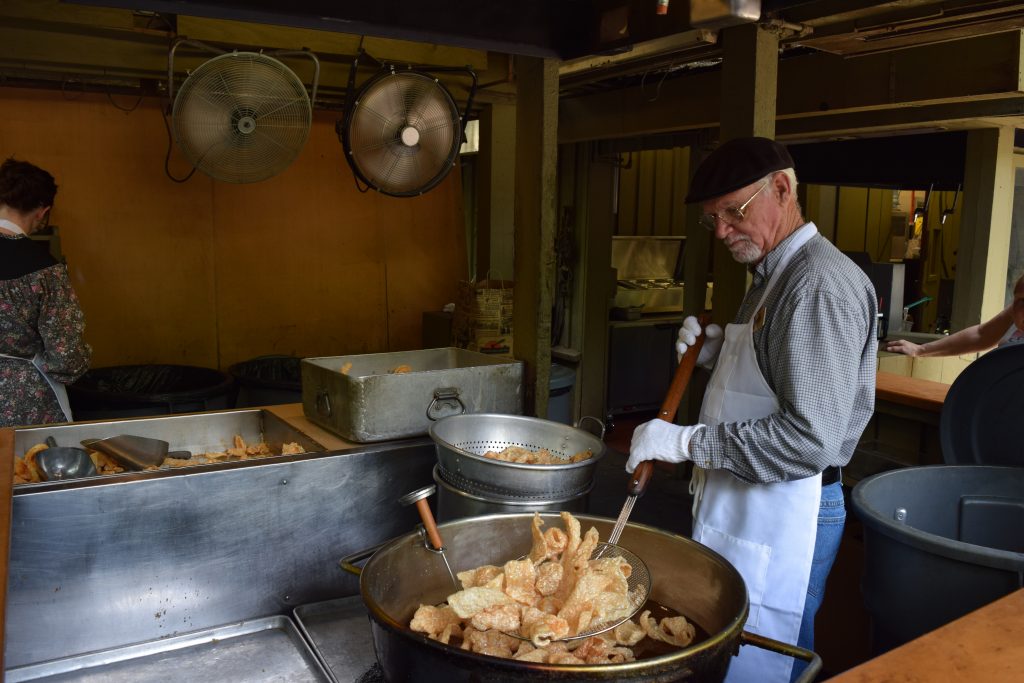 Whether you want something quick or a hearty sit-down meal, you can find it at Silver Dollar City. Check out the entire list of Silver Dollar City's dining options.
Brown Bag
You won't see any signs here that prohibit you from bringing in your own food. Whether you are budget conscious or just want to eat your own food you can bring it in with you at Silver Dollar City.
Food Allergies?
For someone with food allergies, vacation can be tough. The good news is that Silver Dollar City is one of the few theme parks with a broad offering of dining selections for individuals with dietary restrictions. Check out their page of options for those with food allergies.
For your non-park days, check out my article on the Best Restaurants in Branson. Some of these are off the beaten path, but worth it! 
8. Thrill Rides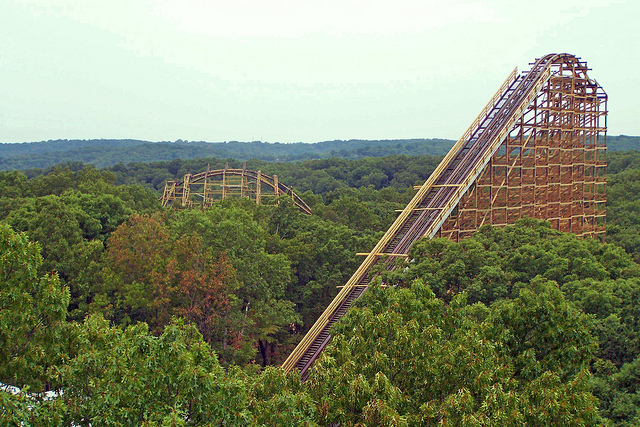 I'm no daredevil, but I think a good thrill here and there can really liven things up. (There's a scientific reason for this.) So whenever I visit Silver Dollar City I always get at least one or two trips in on one of the "big 5" roller coasters here.
Wildfire
I've been on a few coasters at various parks, and Wildfire is the smoothest one I've ridden. Traveling at speeds up to 66 miles per hour, it has a vertical drop of 15 stories, followed by five inversions including a full loop, cobra roll, corkscrew and high-speed spiral. Whoa!
Outlaw Run
Want to ride a top 10 wooden coaster? This is your chance!
This is a fast and furious coaster that features the world's first and only double barrel roll on a wood coaster. It's also the only wood coaster to twist upside down three times and is one of the fastest wood coasters in the world, reaching a top speed of 68 miles per hour.
Powderkeg
I've always wondered what it would feel like to blast off an aircraft carrier. Chances are, I'll never get the chance to find out but I suspect riding Powderkeg is a small taste of how it would be.
From a dead stop it launches to 53 mph in just 2.8 seconds and shoots you straight up a 100 foot climb. Coming down the hill you hit speeds up to 64 mph as you fly through the trees on 3,500 feet of track spread out over six acres.
Time Traveler
Brand new in 2018 is the $26 million Time Traveler. Hitting a top speed of 50 mph it drops 100 feet at 90 degrees. Yep…that's straight down! Oh, and it's spinning while it drops. Yikes!
Coaster Studios did a great POV video about this new ride. Check that out here.
Thunderation
There are some who would say this coaster does not belong in the category of "thrill" rides. While it's true this is a more moderate ride than some of the others mentioned here, it is still fun. I'd dare anyone to try it without smiling.
My favorite part is the spiral right before it enters the tunnel. Wow! That feels faster than the 48mph the website says this coaster hits.
9. Have Ice Cream at Hannah's Ice Cream Factory

Whether its blazing hot or freezing cold outside, a bowl of ice cream makes you feel better. That's especially the case for the homemade ice cream at Hannah's Ice Cream.
When they say their ice cream is homemade, it's more than just a marketing tactic. This is homemade! You can watch for yourself as they churn up the delicious flavors.
This shop is located on Main street rights as you walk into the park.
Tip: If your name is Hannah, the ice cream is free!
10.  Pray for Rain

Rain and vacation plans typically don't fit, but a good old rainstorm could be your friend at Silver Dollar City. Imagine having the streets, shops and rides nearly to yourself. That's what you get when one of the quick moving Ozark rainstorms blow through. The rides will shut down and people will leave the park in droves.
While you're waiting, there's still plenty to do. The shops and demonstrating craftsman will continue operations even in the worst weather. Let the weather pass by while checking out a few one-of-a-kind glass creations or pottery pieces.  By the time you're finished, there's a good chance the storm, and the long lines, will be gone.
11. Avoid Saturdays
Unless standing in heinously long lines is your idea of a great day, I would avoid Saturdays. Seriously! These are huge attendance days at the park and the lines are long for everything.
Instead, visit on a Sunday. This is typically a turnaround day for many travelers so they are either arriving in Branson or driving home. This doesn't mean the park doesn't get busy, but it's nowhere close to the masses you'll see on a Saturday.
12. Drink (FREE!) Water
The most common cause of illness on vacations is from dehydration. That doesn't need to be an issue when you visit this park. In addition to plenty of options to purchase liquid refreshment, you can also simply ask for a free glass of water at any concession stand where they sell drinks. Additionally, there are multiple water fountains throughout the park where you can get water without standing in line.
13. Use the Silver Dollar City App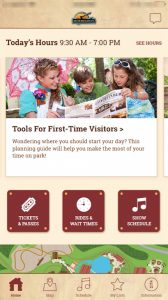 The Silver Dollar City app is fairly new. It was sorely needed though! Before, it was nearly impossible to know what wait times were on rides or what the best route was to get from one attraction to the other. Now you can download the app and maximize the time you spend here.
Here are a few of the benefits:
Map: Getting around the park doesn't ahve to be confusing any more. The app has a GPS-enabled map that will give you directions to everything in the park.
Show Schedules: "What time does that show start?" You can find that answer in the app. You can even set alerts and the app will notify you when it's close to showtime.
Ride Wait Times: IMake the most of each moment with Ride Wait Times. Ride Wait Times allow you to plan your day by showing you the estimated wait time for each ride.
Design Your Day: Create customized lists of all the Rides, Attractions, Shows and Restaurants you wish to experience during your visit, and cross them off your list once you've seen them!
Want to download the app now? Just use the handy links below.


BONUS TIP
The other day I walked into the Culinary & Craft School (right across from the Red Gold Heritage Hall and entrance to the Grand Exposition) and started chatting with the lady working the register. She asked me if I'd ever relaxed on their back porch? What!?
"Ma'am," I thought to myself, "I'm a seasoned SDC pro…if there was a back porch here I'd know about it." Well…if I'd have taken bets about the existence of that porch I would have lost. There is a huge back porch with at least 20 rocking chairs which overlooks the Echo Hollow Amphitheater. Wow! What a relaxing spot to step away from the busy park for a few minutes.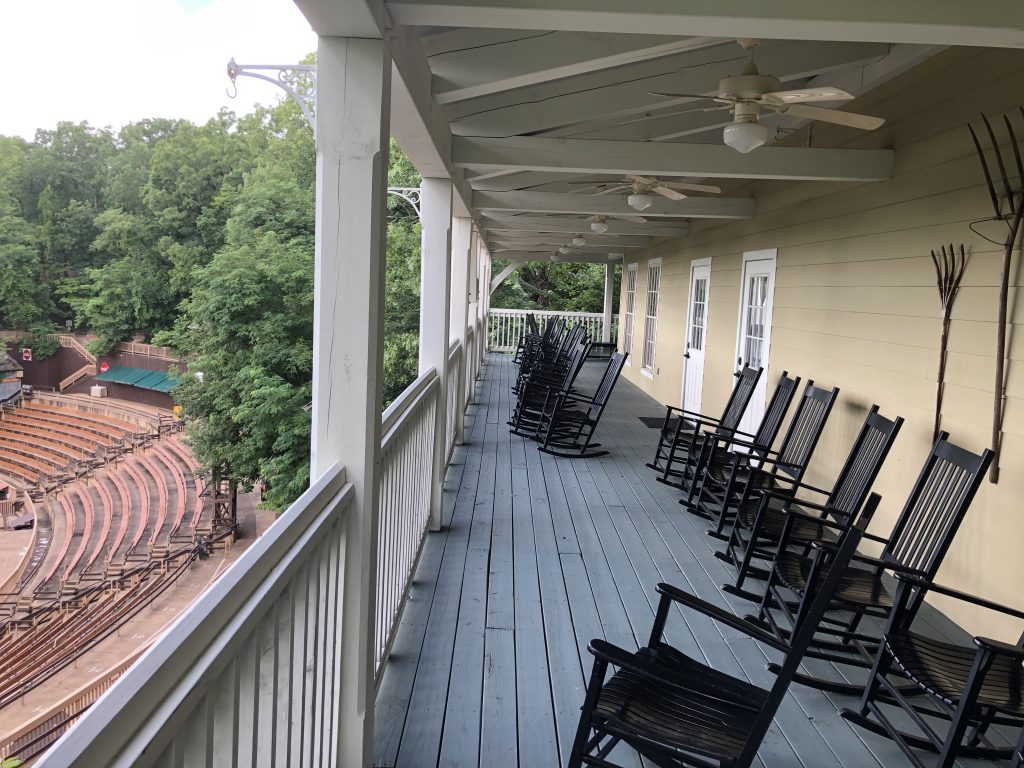 Hopefully, one of these 13 tips will help you have a day at Silver Dollar City that's more memorable and fun.
This is where I want to hear from you. What do you like most about Silver Dollar City? What's the one thing someone can't miss if they go? Leave your comment below.